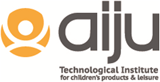 AIJU research centre is a private, non-profit making organization aiming to boost research, development and technological innovation to give solutions to societal and industrial challenges, thus enabling the achievement of a constant competitiveness increase and product quality improvement.
Our training department introduces new technology and procedures in the industry with tailor-made courses attending to the needs and requirements of the industry. In addition, it plays a key role in terms of innovation in the region since it looks after the acquisition of knowledge coming from the latest R+D activities. During 2012, AIJU had 100 training activities with more than 1.150 trainees.
In collaboration with the vocational institute La Foia, AIJU offers oficial technical training cycle in plastics within a contract with regional government . AIJU also offers, for more than 15 years, training for unemployed on CNC within SERVEF (Valencian Employment and Training Service). Moreover, AIJU is official trainer for Siemens NX CAD-CAM-CAE.
AIJU has extensive experience in training CAD / CAM , CNC theory , cutting technologies and the theoretical mould design.
This experience will let AIJU to propose elearning content and will prepare some materials suitable to needs. These materials will be completed in English and will be translated to each language of project partners.
Website: www.aiju.info